Shop Smartiv for no-tie silicone shoelaces
Do you want to make tying your shoelaces easier? With Smartiv no-tie silicone shoelaces, you can.
Our laces for both adult and kids shoes get rid of the need to tie complicated knots.
What's more, they look great. What's not to like?
About no-tie shoelaces
No-tie shoelaces are shoelaces that you don't have to tie. They make it easy to slip your feet into your shoes but keep the tongue in place.
They prevent you from slipping out, holding your feet in place.
Our no-tie shoelaces are different from regular shoe laces. Instead of being one long cord, they are made of individual silicone pieces.
These slot into opposite-facing eyelets. You simply hook them into position and off you go.
The benefit of no-tie shoelaces
Unleash the potential. The benefits of no-tie shoelaces are incredible.
They are so convenient compared to regular versions, suit all shoe types and you do not have to tie them again.
Lock in at both ends so that they are firmly fixed on your shoes.
Easy to apply
As the name implies, no-tie shoelaces don't involve any tying. With this lacing system, you can get out the door faster.
They are also good if you don't know how to tie regular laces. No-ties are ideal for kids or people with disabilities.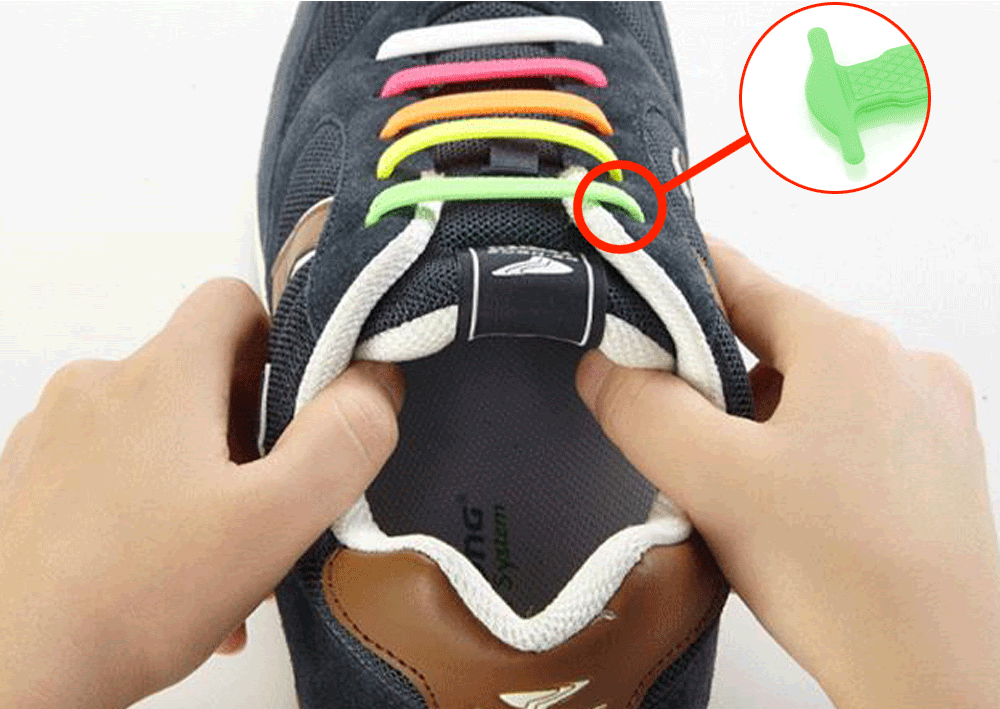 Premium Silicone
All shoe laces are made of genuine silicone.
Non-Tearing, highly elastic and environmentally friendly.
Easy Installation
Easy to pop in and out as you desire.
Once installed you never have to worry again.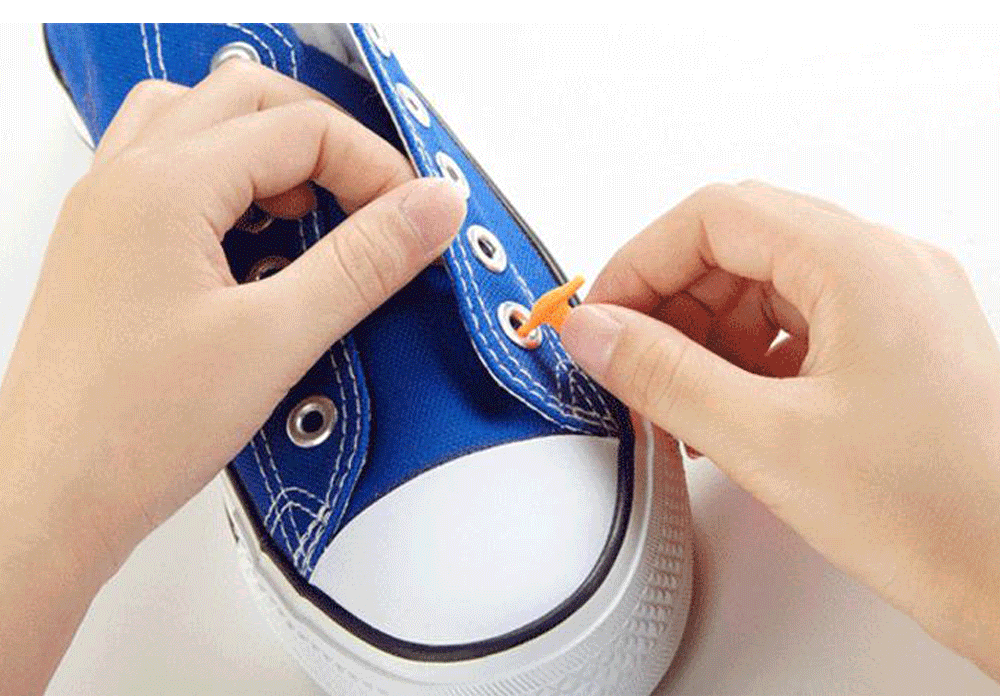 Multiple colour options
Regular laces don't offer as many colour customisation options as no-ties.
Most are the same along their length. By contrast, no-ties let you choose a colour for each pair of eyelets.
You can use a single colour or alternate between two. You can also create a rainbow pattern. The choice is yours.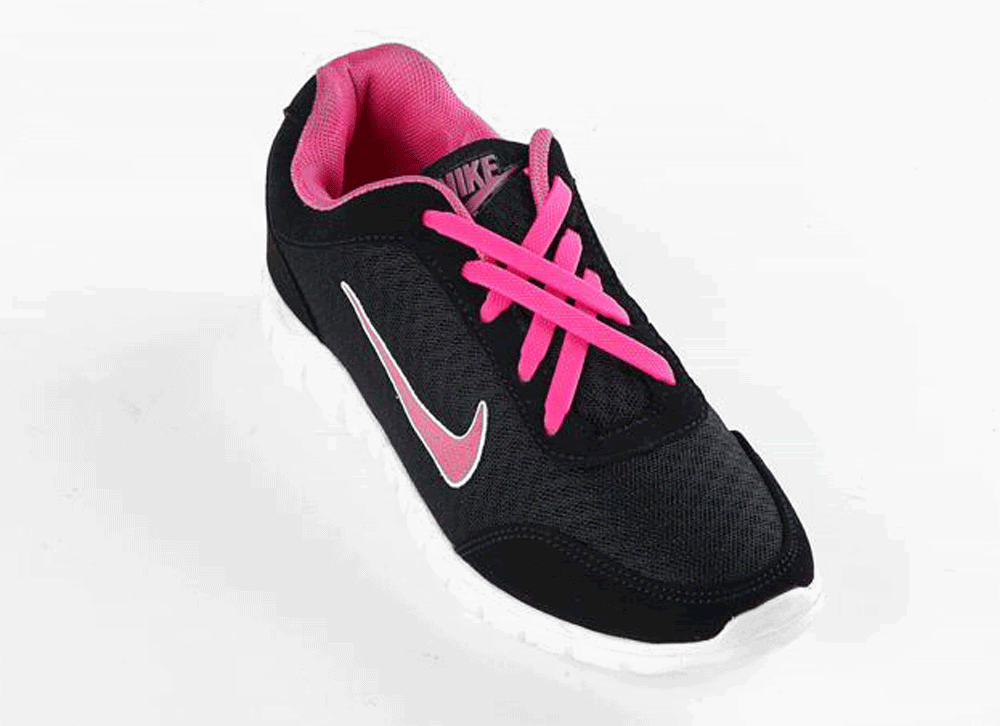 Enhance creativity
Unlimited potential in creating your own lacing methods. No-tie shoelaces are great for creativity.
Kids and adults alike can use them to come up with all sorts of themes.
Develop your own style with no-ties today.
Reduce stress
Getting kids off to school in the morning can be stressful. But no-ties make it easier. They are so simple, children can do up their own laces.
They don't need to ask you for help.
Reduce tripping
When regular shoelaces come undone, they can cause trips that lead to injury. Even with advanced lacing technique, well-tied laces can loosen after a long day.
No-tie silicone shoelaces eliminate tripping hazards entirely. If sections come out of their eyelets for any reason, it does not matter.
They are too short to present a danger.
Turn any pair of shoes into slip-ons
Silicone is an elastic material that makes it easy to slip any pair of shoes on and off. It stretches as you put your foot into the shoe.
It then holds it securely in place once it is in the correct position. There is no need to tie.
No-tie shoelace options
With elastic shoe laces, you have so many options. Smartiv makes them for kids and adults.
Choose from black, blue, grey, pink, purple, white and yellow. Get stretchy laces that won't tear or wear out. Install with ease on your shoes and enjoy DIY creations. As well you can see why it is easy to clean shoelaces compare with traditional laces. 
FAQs
What are no tie shoelaces?

No-tie shoelaces are shoelaces that allow you to slip your shoes on and off without having to tie or untie any knots. There are two main types: bungee-cord style and lay-flat. Lay-flat use individual sections to link eyelets, holding the tongue in place. Bungees require you to pull them tight. A cord coils up, stopping the lack from slipping back through the eyelet.
How do you use no-tie laces?

Using no-tie shoelaces is easy. To tie elastic shoelaces, take the end of the lace, pinch it and then push it through an eyelet on your shoe. Then repeat for the other side. (Choose one nearby if you want a criss-cross lace pattern).
How do you tie shoelaces without them showing?

Tying shoelaces without the knot showing are possible on regular shoes. Usually, it involves tying the knot behind the tongue, which can rub on your feet.
With no-tie shoelaces, it's easy. That's because there is no knot. Instead, there are just bands of elastic material holding the tongue in place.
What no tie shoe laces styles are there?

Several different styles of no-tie shoelaces are available. Each works on a different design. Silicone no-tie shoelaces feature individual sections that connect opposing eyelets. Bungee types require you to pull tight, with larger nodules holding them in place. These stop laces from slipping back through their holes. There are also lock laces. These have a locking mechanism with a pull toggle.
Are elastic shoe laces durable?

Elastic shoelaces are durable because of how they are made. Unlike many other elasticated materials, silicone does not tear under tension and can withstand repeated use. It does not wear out easily.